Agriculture in India is fraught with risks like crop disease, pest attack, reduction in output, droughts and floods. Crop insurance will go a long way in mitigating the risk. However, several schemes have been launched and discontinued due to extreme risk factors and huge loss to insurance companies. However, the Government introduced "National Agricultural Insurance Scheme" (NAIS) in 1999-2000 by Agriculture Insurance Corporation of India.
It covers all food crops (cereals and pulses), oilseeds, horticultural and commercial crops. It covers all farmers, both loanees and non-loanees, under the scheme. The premium rates vary from 1.5 percent to 3.5 percent of sum assured for food crops. In the case of horticultural and commercial crops, actuarial rates are charged. There is a 50% subsidy provided by the government to farmers.
News
List of Crop Insurance Companies in India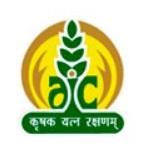 Company Name: Agriculture Insurance Co Of India Ltd OldName: Group : Address: Corp Office 13th Floor, Ambadeep Building, 14, Kasturba ...
Read More